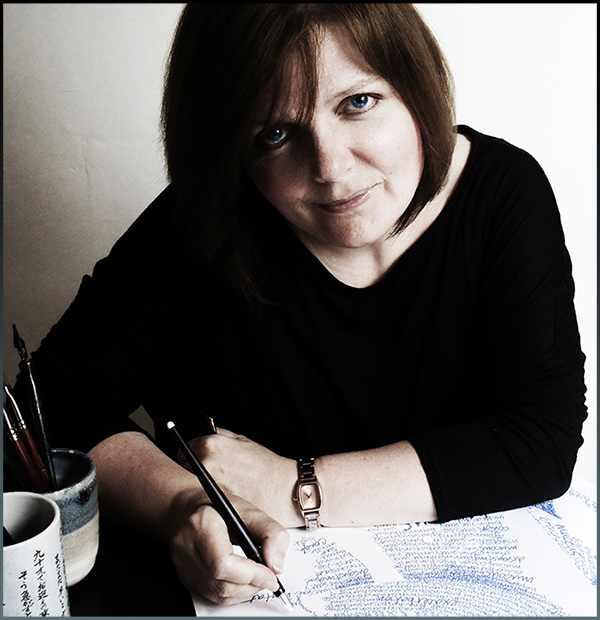 My name is Ruth Rowland and I have been freelancing as a
lettering artist
and
illustrator
 for over 20 years. Based in London, I work globally for a wide range of clients from the music, advertising,
packaging and
publishing industries, creating hand lettered logos, titles, straplines and illustration.
Clients include: 
Coca Cola, BBC, Starbucks, Quercus Publishing, Virgin Records, Newsweek, Cosmopolitan, Harper Collins, Pilot Pens, Marks & Spencer, Penguin Random House,
Southern
Poverty Law Center, BAA and Neiman Marcus amongst many others.
With a Bachelor's Degree in illustration, an interest in letterforms led me to study a Master's Degree in hand drawn lettering, calligraphy and experimental typography at Central St Martins School of Art, London.
These days I create
bespoke lettering
and
calligraphy
for graphics, as well as
illustrative maps
,
diagrams
and
word-heavy
illustration
. 
Over the years, I have built up a portfolio of high profile jobs but I am still very happy working on smaller projects. 
An experienced
visiting lecturer
,
teacher
and
workshop leader
, 
I also exhibit and sell
limited editions prints
which you can find in my print folder.
Rafi Romaya @ Canongate Books 

I have been lucky enough to use Ruth's beautiful bespoke hand-lettering on numerous book covers over the years which always adds an energy and freshness perfect for each title. A joy to work with. Thanks Ruth.
Amy Houston @ Deutsch 
You were wonderful to work with, fast and flexible in our short schedule.
Valerie Downes @ Southern Poverty Law Centre 
We have relied on Ruth Rowland's beautiful hand lettering to carry a design concept through to the finish time and time again. She always delivers dynamic, solid illustration. Thank you Ruth!
Stephen Christensen @ Scholastic
 I came to Ruth with a rough idea for a poster that was in need of intriguing hand lettering and eye-catching illustrations. Ruth delivered in spades, sharing several well thought out ideas and options in the sketch phase. This made for a beautiful finished product that delighted our clients. Thanks Ruth!
Luke Wotton @ Sketch Agency 
We were looking for something that expressed the business ethos of Sketch on an emotional level. Ruth's work communicates the passion and commitment that we all have to creativity here.
Jan Hirst @ Elmwood
 We've worked with Ruth on a packaging project recently and her lettering was fantastic – it really helped bring the concept to life. Ruth is a pleasure deal with – she's flexible and conscientious. I'd have no hesitation in recommending her for beautiful hand lettering work.
2015 

Exhibiting and demonstrating lettering at Art in Action.
2013

 TypeTasting Workshop, London Design Festival, V&A Museum, London.
2013 

Demonstrating calligraphy at Making Faces Film, St Bride Print Library.
2013 

Demonstrating calligraphy and exhibiting at ScrapbookLive, Griffin Gallery, London.
2012 

The Craft of the Letter Lectures, St Bride Print Library.
2011

Ruth Rowland Lettering Artist, Letter Exchange Lecture,The Art Workers' Guild, London.
Images 35
- The Best of British Illustration Exhibition and Annual 2011
1st Place Altpick Awards
, Design Category - Aruba Ad Campaign Lettering 2009
CreativeMatch Flair Typography Award
- Winner 2008
D&AD Award
- Jonathan Crisp Packaging Lettering 2005
D&AD Award
- New Millennium Experience, How Shall I Live? Illustration 2000